Info
Schedule
Circuit
Cars
Team Funds
Results
History
The annual TRC event in aid of BBC Children in Need has been running since 2007. This will be the 11th event to date, and across all events, you have collectively raised over £60,000 for the charity.
The Hampshire event is a must for all race fans and is the ultimate test of driver skill and concentration as you race through the night. Yes, that's right, we simulate the entire race as if it was the real thing, including racing into the sunset, through the night, and the sun rising again in the morning.
---
Team entry is available at the massively subsidised £300 Per Team. This covers your entry and the cost of the "fun".  When fund raising please be clear that you and TRC have covered the costs of the activity, and anything that your friends and family donate is going direct to BBC Children in Need via Just Giving.
Do let us know when you have set up your team's JustGiving page so you can qualify for your discounted practice rate. And we can share it with everyone here on the Team Funds Page.
Also – You may wish to register on our dedicated 2018 Children in Need Mailing List – Register Now
Official practice sessions
We will be running 3 practice sessions outside of the main event. The sessions will be priced at £6 per pod, per hour (or part of) for teams who have set up and shared their just giving page. Otherwise the standard rate of £24 per hour.
Practice 1 – Wed 24th Oct 6-10pm
Practice 2 – Thurs 1st Nov 6-10pm
Practice 3 – Fri 9th Nov 6-10pm
Main event schedule – Friday
Friday 16th November 2018
09.30 – Venue Doors Open
10.00 – Practice 4 (60 mins)
11:15 – Qualifying (30 mins)
12.00 – Final Team and Driver Briefing
13.00 – Race Start (24 hours)
Main event schedule – Saturday
Saturday 17th November 2018
00.00 – Race Continues
13.00 – Race End
13.15 – Podium Celebrations
13.30 – Event Ends
The Circuit
A great international circuit, making it's first appearance for this epic annual 24 hour event.
Nurburgring GP Strecke (Grand Prix Circuit)
3.202 miles (5.153 km)
15 turns (9 right and 6 left)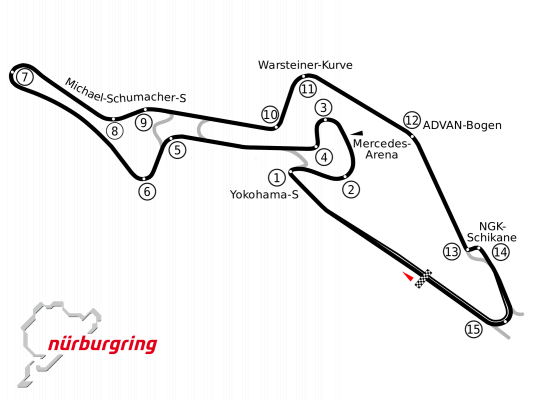 The Car
A much loved car of the 1980's. Light and agile and easily adjusted on the throttle. With plenty of power to kick out the back end should you wish.
BMW M3 (E30) DTM
2,500 cc Inline 4
310 hp at 8,500 rpm
207 ft-lbs at 7,000 rpm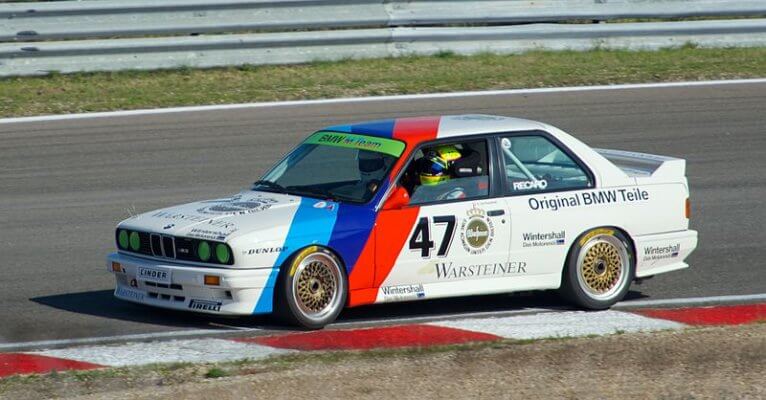 Please Note: The full cost of the event / the "fun", is covered by The Race Centre and the participating teams. Any charitable donations in support of your team, go direct to BBC Children in Need via the donation pages above.
Official Practice Sessions
| Session | Top 3 Teams | Fastest Time |
| --- | --- | --- |
| Practice 1 | 1. Spin Doctors | 2:13.204 |
| Weds 24th Oct | 2. Wheel Men | 2:13.930 |
| 18:00 – 22:00 | 3. CF Chargers | 2:14.668 |
| [ Full Results ] | | |
| Session | Top 3 Teams | Fastest Time |
| --- | --- | --- |
| Practice 2 | 1. CF Chargers | 2:11.340 |
| Thurs 1st Nov | 2. CF Chasers | 2:11.428 |
| 18:00 – 22:00 | 3. Star Wars Extras | 2:13.391 |
| [ Full Results ] | | |
| Session | Top 3 Teams | Fastest Time |
| --- | --- | --- |
| Practice 3 | 1. CF Chargers | 2:09.862 |
| Fri 9th Nov | 2. Star Wars Extras | 2:12.927 |
| 18:00 – 22:00 | 3. Wheel Men | 2:13.904 |
| [ Full Results ] | | |
The Main Event
| Session | Top 3 Teams | Laps | Fastest Time |
| --- | --- | --- | --- |
| Practice 4 | 1. CF Chargers | 19 | 2:11.096 |
| Fri 16th Nov | 2. CF Chasers | 17 | 2:11.208 |
| 10:00 – 11:00 | 3. Star Wars Extras | 17 | 2:13.106 |
| [ Full Results ] | | | |
| Session | Top 3 Teams | Laps | Fastest Time |
| --- | --- | --- | --- |
| Qualifying | 1. CF Chargers | 10 | 2:10.497 |
| Fri 16th Nov | 2. CF Chasers | 11 | 2:10.816 |
| 11:15 – 11:45 | 3. Star Wars Extras | 9 | 2:12.146 |
| [ Full Results ] | | | |
| Session | Top 3 Teams | Laps | Fastest Time |
| --- | --- | --- | --- |
| Race | 1. CF Chargers | 640 | 2:09.358 |
| Fri 16th Nov | 2. CF Chasers | 640 | 2:09.959 |
| 13:00 (24 hours) | 3. Spin Doctors | 626 | 2:12.263 |
| [ Full Results ] | | | |
The Race Centre and BBC Children in Need
For a detailed history of The Race Centre's annual endurance event, in aid of BBC Children in Need, please visit the link below…
Words by Roy "Rocket" Wright
"

Awesome

2017 Event Feedback

"

Epic

2017 Event Feedback

"

Absolutely brilliant

2017 Event Feedback

"

Great atmosphere

2017 Event Feedback

"

Great team spirit

2017 Event Feedback

"

Such lovely people

2017 Event Feedback

"

A very worthy cause

2017 Event Feedback

"

Seems to get harder every year

2017 Event Feedback

"

I'm tired but happy!

2017 Event Feedback

"

Loved it!

2017 Event Feedback

"

We will be back!

2017 Event Feedback