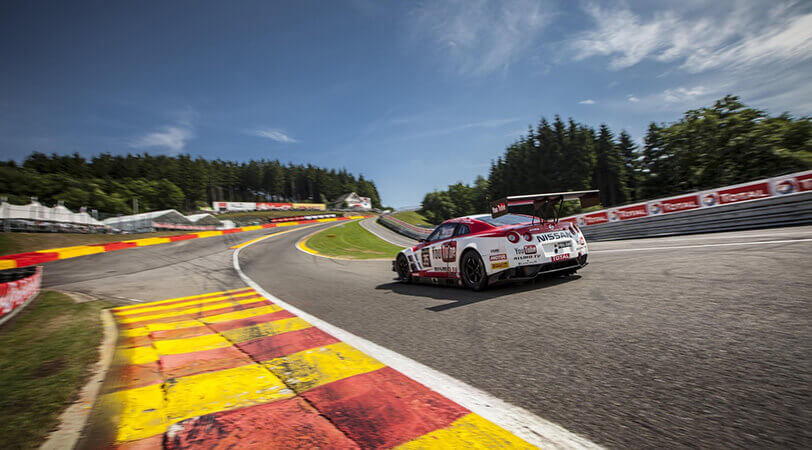 Monday 1st May, 2017
Track of The Month – May 2017
Spa Francorchamps, Belgium
May's Track of the Month at The Race Centre is the legendary Spa-Francorchamps in Belgium. First used for Grand Prix racing in 1925, Spa has been one of the most iconic racetracks in existence.
World renowned for it's vivid, picturesque setting and its high-speed corners, including the exhilarating Eau Rouge, Spa has been the scene of many a special event, annually hosting the Belgian Grand Prix and the 6 hours of Spa, taking place this month.
A favourite for both drivers and fans, can you tame Spa this month?
Jump onboard with New Zealander Earl Bamber, as he takes on a flying lap of Spa in his LMP1 Porsche 919 Hybrid
Audi vs Porsche
At the end of 2016, it was announced that Audi would be leaving the World Endurance Championships (WEC), and in doing so would be ending it's long standing rivalry with fellow German manufacturer Porsche.
Audi have been the king of Endurance racing since the teams first involvement with the sport in 1999, being crowned winners of the 24 hour of Le Mans in 14 of its 18 starts, a record that lured Porsche back into the WEC in 2014.
Victories for Porsche at the 2015 and 2016 editions of the race, combined with notorious diesel emission manipulation scandal in 2015, resulted in Audi moving away from the sport for marketing reasons.
Racing between the two teams has been frenetic, and whilst Audi now look to ramp up their involvement in Formula E in the near future, it's tenure in the WEC alongside Porsche will live long in the memory.
---
We hope you enjoy this fantastic circuit and the cars we have chosen!
What can you drive this month?
You are welcome to drive any of the month's vehicles at any time in an Open Practice Session. All lap times and telemetry are recorded for your immediate viewing and future reference.
| Competition | Vehicle | Prize |
| --- | --- | --- |
| Class A – Expert | Audi R8 LMP1 | 1x £50 Cash |
| Class B – Professional | Porsche RS Spyder LMP2 | 1x Free First Monday |
| Class C – Intermediate | Radical SR8 | 3x Free First Monday |
| Class D – Rookie | Formula Ford | 5x Free First Monday |
See best laps for this competition in the Drivers' Paddock.
Who can win ?
New drivers to The Race Centre will be automatically classified as a Class D driver. Winning in a class will gain you promotion to the next class. You have to win Class B twice to progress to Class A.
| Competition | Eligible Classes | Promotion |
| --- | --- | --- |
| A – Expert | A, B, C, D | – |
| B – Professional | B, C, D | A |
| C – Intermediate | C, D | B |
| D – Rookie | D only | C |
Competition Terms and Conditions
All potential prize winning laps must be verified by a TRC staff member
For a lap to be legal, your vehicle must have two or more wheels inside or touching the white lines at all times.
Vehicles must be running all standard TRC settings for the month.
Free entry to First Monday is for the next event and is non transferable.
Multiple Class wins within a month will result in prizes for the highest win only. Lower "wins" will be passed to the next highest competitors.
TRC Staff are not eligible to win prizes. Any winning positions held by staff will defer to the next highest driver.
Cash prizes available at the following First Monday event or within a max of 30 days of competition end.