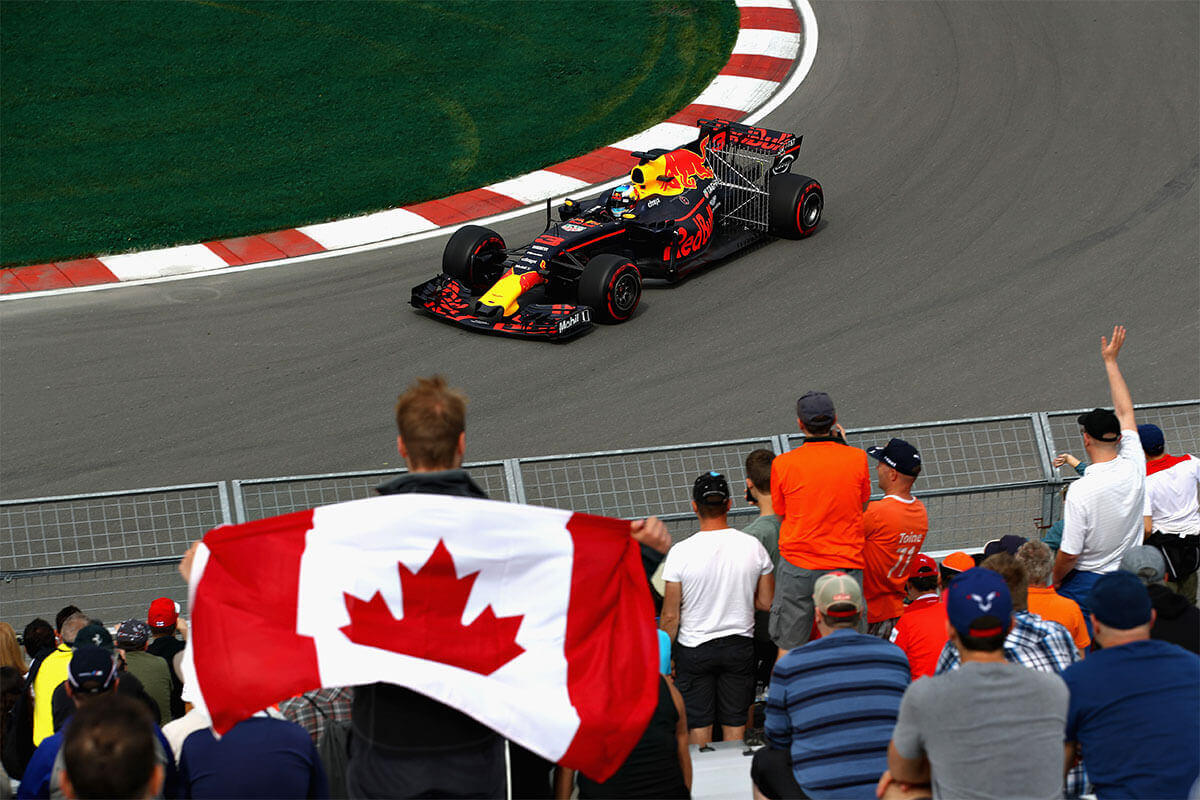 Thursday 1st June, 2017
Track of The Month – June 2017
Montreal, Canada.
This June, The Race Centre is off to Canada, with our track of the month being the historic Circuit Giles Villeneuve in Montreal. An iconic street track, Circuit Gilles Villeneuve is a 2.7 mile circuit and has been a stalwart on the Formula 1 calendar since 1978.
This year is a special one for Canadian motorsport, with them celebrating 50 years of Grand Prix Racing in Canada, most of which having taken place at the Circuit Gilles Villeneueve. Famous for its long fast straights, hard braking corners and close proximity to the walls, including the notorious Wall of Champions, the circuit rewards brave and precise driving, with any small mistake usually resulting in a visit to the barriers.
It will take a great lap to master the streets of Montreal this month!
Take a look at last years pole lap round Montreal, set by Mercedes driver Lewis Hamilton.
Lewis Hamilton
This month, we're also focusing on one of the most successful drivers in the history of Formula 1; Lewis Hamilton. Born in Stevenage in January 1985, Lewis began his racing career with karting, before moving on to Formula Renault, Formula 3 and GP2 before making his Debut in Formula 1 with McLaren in 2007.
His maiden win came at the Canadian Grand Prix of his debut season, and it was a sign of things to come. His tenacity behind the wheel and 'never say die' attitude have flourished throughout his career, personified by his last-corner overtake at the 2008 title decider in Brazil, where he won the first of his 3 Driver's World Championships.
In addition, his 55 race victories and 64 pole positions have showed his class over the years, and at the age of only 32, he can undeniably become the best driver of all time.
---
We hope you enjoy this fantastic circuit and the cars we have chosen!
What can you drive this month?
You are welcome to drive any of the month's vehicles at any time in an Open Practice Session. All lap times and telemetry are recorded for your immediate viewing and future reference.
| Competition | Vehicle | Prize |
| --- | --- | --- |
| Class A – Expert | '16 Mercedes W07 | 1x £50 Cash |
| Class B – Professional | GP2 | 1x Free First Monday |
| Class C – Intermediate | Formula 3 | 3x Free First Monday |
| Class D – Rookie | Formula Ford | 5x Free First Monday |
See best laps for this competition in the Drivers' Paddock.
Who can win ?
New drivers to The Race Centre will be automatically classified as a Class D driver. Winning in a class will gain you promotion to the next class. You have to win Class B twice to progress to Class A.
| Competition | Eligible Classes | Promotion |
| --- | --- | --- |
| A – Expert | A, B, C, D | – |
| B – Professional | B, C, D | A |
| C – Intermediate | C, D | B |
| D – Rookie | D only | C |
Competition Terms and Conditions
All potential prize winning laps must be verified by a TRC staff member
For a lap to be legal, your vehicle must have two or more wheels inside or touching the white lines at all times.
Vehicles must be running all standard TRC settings for the month.
Free entry to First Monday is for the next event and is non transferable.
Multiple Class wins within a month will result in prizes for the highest win only. Lower "wins" will be passed to the next highest competitors.
TRC Staff are not eligible to win prizes. Any winning positions held by staff will defer to the next highest driver.
Cash prizes available at the following First Monday event or within a max of 30 days of competition end.