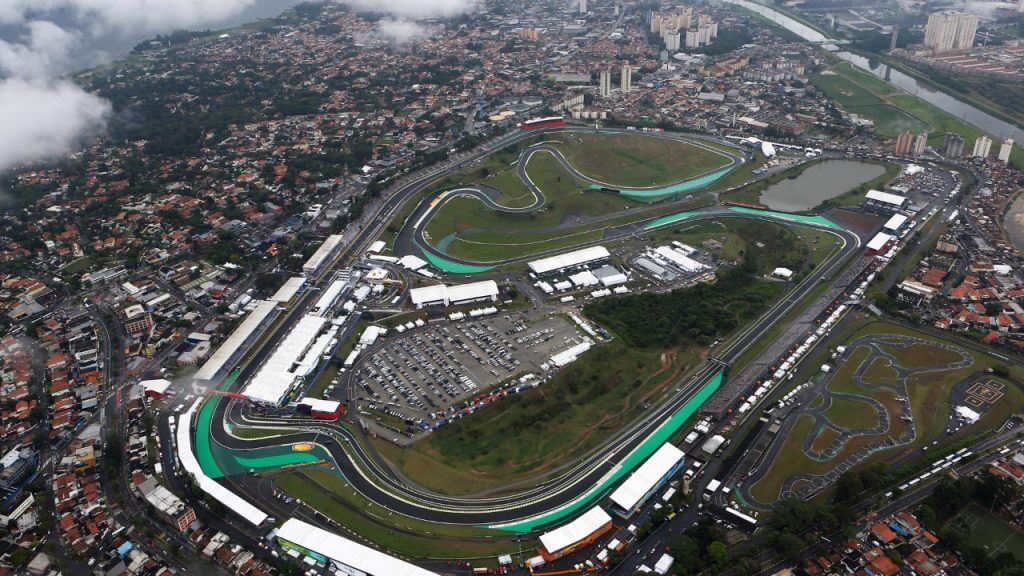 Wednesday 1st November, 2017
Track of The Month – November 2017
Interlagos, Brazil
This November, the Track of the Month is the brilliant Brazilian circuit of Interlagos. Situated in Sao Paulo, this 2.7 mile circuit has been a challenge for both car and driver, since it's inception in 1940.
Through its many iterations, Interlagos has been able to maintain its high-speed corners, as well as the undulating track layout and bumpy road surface. As such, Interlagos has been a mainstay on the Formula 1 calendar since 1990.
Have a look below at two-time Brazilian Grand Prix winner Mark Webber, as he gives us a flying lap of Interlagos
Crowning of a Champion
This years' race in Brazil will be the penultimate race of the 2017 Formula 1 World Championship, and by the end of the season, 1 driver shall stand alone at the top; Lewis Hamilton.
Already crowned as world champion with 2 races remaining, Hamilton has had to show all of his talent to thwart the efforts of Ferrari's Sebastian Vettel, the closest challenger over the course of the season. The racing has been intense, and in some situations too intense, with momentum swinging between the two drivers over the course of the season.
A showing of form late in the season from the Red Bull team, and with the challenge from Ferrari unlikely to fade next year, we are already looking forward to a great 2018 season, where Lewis Hamilton will surely be the man to beat.
---
We hope you enjoy this fantastic circuit and the cars we have chosen!
What can you drive this month?
You are welcome to drive any of the month's vehicles at any time in an Open Practice Session. All lap times and telemetry are recorded for your immediate viewing and future reference.
| Competition | Vehicle | Prize |
| --- | --- | --- |
| Class A – Expert | '16 Mercedes W07 | 1x £50 Cash |
| Class B – Professional | GP2 | 1x Free First Monday |
| Class C – Intermediate | Formula 3 | 3x Free First Monday |
| Class D – Rookie | Formula Ford | 5x Free First Monday |
See best laps for this competition in the Drivers' Paddock.
Who can win ?
New drivers to The Race Centre will be automatically classified as a Class D driver. Winning in a class will gain you promotion to the next class. You have to win Class B twice to progress to Class A.
| Competition | Eligible Classes | Promotion |
| --- | --- | --- |
| A – Expert | A, B, C, D | – |
| B – Professional | B, C, D | A |
| C – Intermediate | C, D | B |
| D – Rookie | D only | C |
Competition Terms and Conditions
All potential prize winning laps must be verified by a TRC staff member
For a lap to be legal, your vehicle must have two or more wheels inside or touching the white lines at all times.
Vehicles must be running all standard TRC settings for the month.
Free entry to First Monday is for the next event and is non transferable.
Multiple Class wins within a month will result in prizes for the highest win only. Lower "wins" will be passed to the next highest competitors.
TRC Staff are not eligible to win prizes. Any winning positions held by staff will defer to the next highest driver.
Cash prizes available at the following First Monday event or within a max of 30 days of competition end.