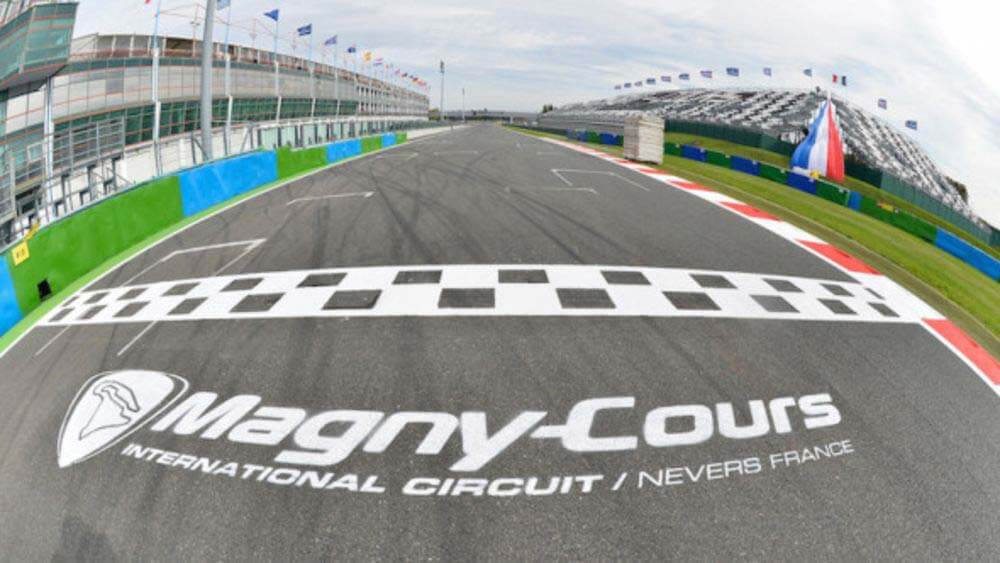 Thursday 1st February, 2018
Track of The Month – February 2018
Magny-Cours, France
This February, The Race Centre's Track of the Month is the magnificent circuit of Magny-Cours in France.
Located in the Bourgogne region of central France, Magny-Cours initially existed as a karting circuit in the 1960's for local drivers and fans. Radical developments to the circuit in the late 1980's put Magny-Cours upon the international spotlight and the track played host to the French Grand Prix from 1991 until 2008.
A 2.6 mile circuit, Magny-Cours is a technical challenge. Its mix of fast-flowing sequences and slow, tight hairpins require precision, bravery and confidence under braking. Come and see for yourself this month at The Race Centre.
Take a look below for an on-board lap of Magny-Cours with Michael Schumacher, an eight time winner at this track
Formula 1 in the 1990's
The 1990's was perhaps one of the most iconic eras in Formula 1 history. Powered by the beastly 3.5-litre naturally aspirated engines, the 1990's provided drama, passion and heartbreak.
It was an era that begun with technological advancements, with active suspension and traction control enabling cars to reach higher speeds. The FIA decided to ban the use of driver aids completely in 1994, after complaints that driver ability was not playing a part in the results.
Some of the sports best ever drivers made their names in the 1990's, perhaps best epitomised by the intense rivalry between Ayrton Senna & Alain Prost; two of the all-time greats. Other notable names involved in Formula 1 during the 90's include Michael Schumacher, Nigel Mansell, Mika Hakkinen & Jaques Villeneuve.
---
We hope you enjoy this fantastic circuit and the cars we have chosen!
What can you drive this month?
You are welcome to drive any of the month's vehicles at any time in an Open Practice Session. All lap times and telemetry are recorded for your immediate viewing and future reference.
| Competition | Vehicle | Prize |
| --- | --- | --- |
| Class A – Expert |  '94 Bennetton B194 | 1x £50 Cash |
| Class B – Professional |  '91 Williams FW14 | 1x Free First Monday |
| Class C – Intermediate | Formula 3 | 3x Free First Monday |
| Class D – Rookie | Formula Ford | 5x Free First Monday |
See best laps for this competition in the Drivers' Paddock.
Who can win ?
New drivers to The Race Centre will be automatically classified as a Class D driver. Winning in a class will gain you promotion to the next class. You have to win Class B twice to progress to Class A.
| Competition | Eligible Classes | Promotion |
| --- | --- | --- |
| A – Expert | A, B, C, D | – |
| B – Professional | B, C, D | A |
| C – Intermediate | C, D | B |
| D – Rookie | D only | C |
Competition Terms and Conditions
All potential prize winning laps must be verified by a TRC staff member
For a lap to be legal, your vehicle must have two or more wheels inside or touching the white lines at all times.
Vehicles must be running all standard TRC settings for the month.
Free entry to First Monday is for the next event and is non transferable.
Multiple Class wins within a month will result in prizes for the highest win only. Lower "wins" will be passed to the next highest competitors.
TRC Staff are not eligible to win prizes. Any winning positions held by staff will defer to the next highest driver.
Cash prizes available at the following First Monday event or within a max of 30 days of competition end.