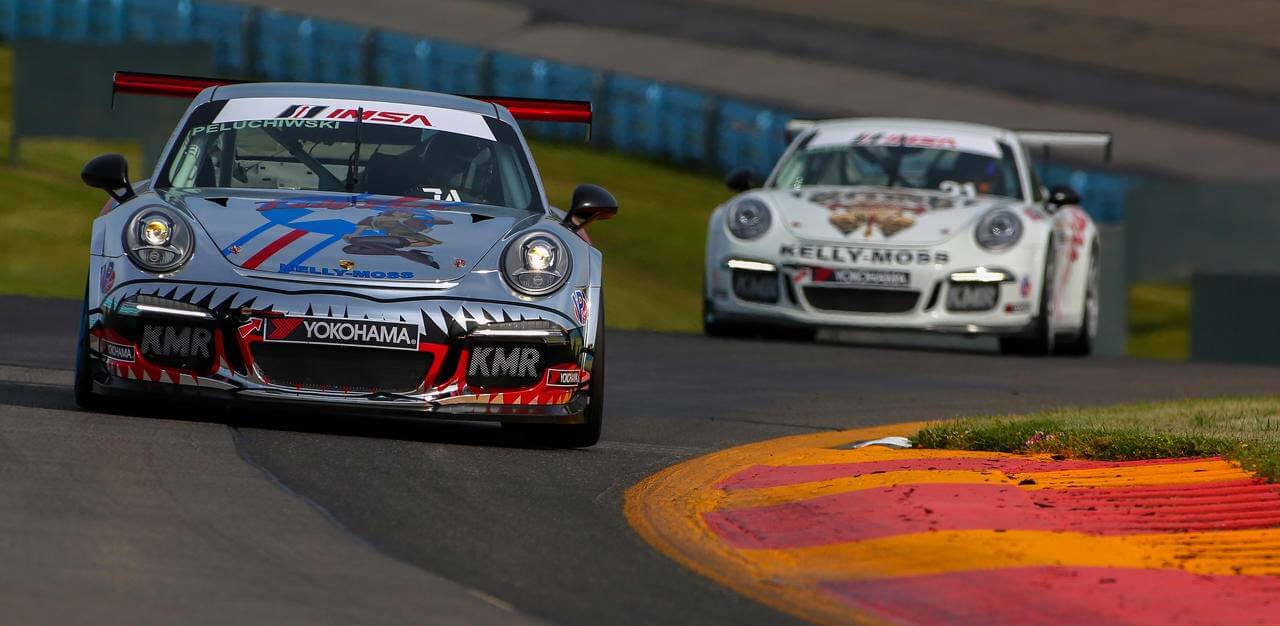 Friday 1st June, 2018
Track of The Month – June 2018
Watkins Glen – USA
The Race Centre's Track of the Month for June is the Watkins Glen International circuit in the USA.
Situated near the Seneca Lake in New York state, Watkins Glen is a 3.5 mile circuit that first saw racing in 1948. Consisting of 11 corners, 'The Glen's' multiple elevation changes and high-speed sequences give it a flow that is often unparalleled when compared to all other North American circuits. It requires precision and bravery from a driver, with unforgiving walls ready to destroy a race with just the slightest touch.
This year is a historic year for Watkins Glen, being 70 years since the circuit first opened. Over that time, series' such as Formula 1, Can-Am and Nascar have all graced the track, much to the delight of fans. Nowadays, the prestigious 'Six Hours of the Glen' is the circuits annual highlight, and showpiece of the American road-racing calendar.
Come and see Watkins Glen for yourself this month at The Race Centre.
---
Watch below for an onboard lap of Watkins Glen with an IMSA Porsche 911 GT3
We hope you enjoy this fantastic circuit and the cars we have chosen!
---
What can you drive this month?
You are welcome to drive any of the month's vehicles at any time in an Open Practice Session. All lap times and telemetry are recorded for your immediate viewing and future reference.
| Competition | Vehicle | Prize |
| --- | --- | --- |
| Class A – Expert | LMP2 Porsche Spyder | 1x £50 Cash |
| Class B – Professional | Porsche 911 GT3 | 1x Free First Monday |
| Class C – Intermediate | Radical SR3 | 3x Free First Monday |
| Class D – Rookie | Formula Ford | 5x Free First Monday |
See best laps for this competition in the Drivers' Paddock.
Who can win ?
New drivers to The Race Centre will be automatically classified as a Class D driver. Winning in a class will gain you promotion to the next class. You have to win Class B twice to progress to Class A.
| Competition | Eligible Classes | Promotion |
| --- | --- | --- |
| A – Expert | A, B, C, D | – |
| B – Professional | B, C, D | A |
| C – Intermediate | C, D | B |
| D – Rookie | D only | C |
Competition Terms and Conditions
All potential prize winning laps must be verified by a TRC staff member
For a lap to be legal, your vehicle must have two or more wheels inside or touching the white lines at all times.
Vehicles must be running all standard TRC settings for the month.
Free entry to First Monday is for the next event and is non transferable.
Multiple Class wins within a month will result in prizes for the highest win only. Lower "wins" will be passed to the next highest competitors.
TRC Staff are not eligible to win prizes. Any winning positions held by staff will defer to the next highest driver.
Cash prizes available at the following First Monday event or within a max of 30 days of competition end.