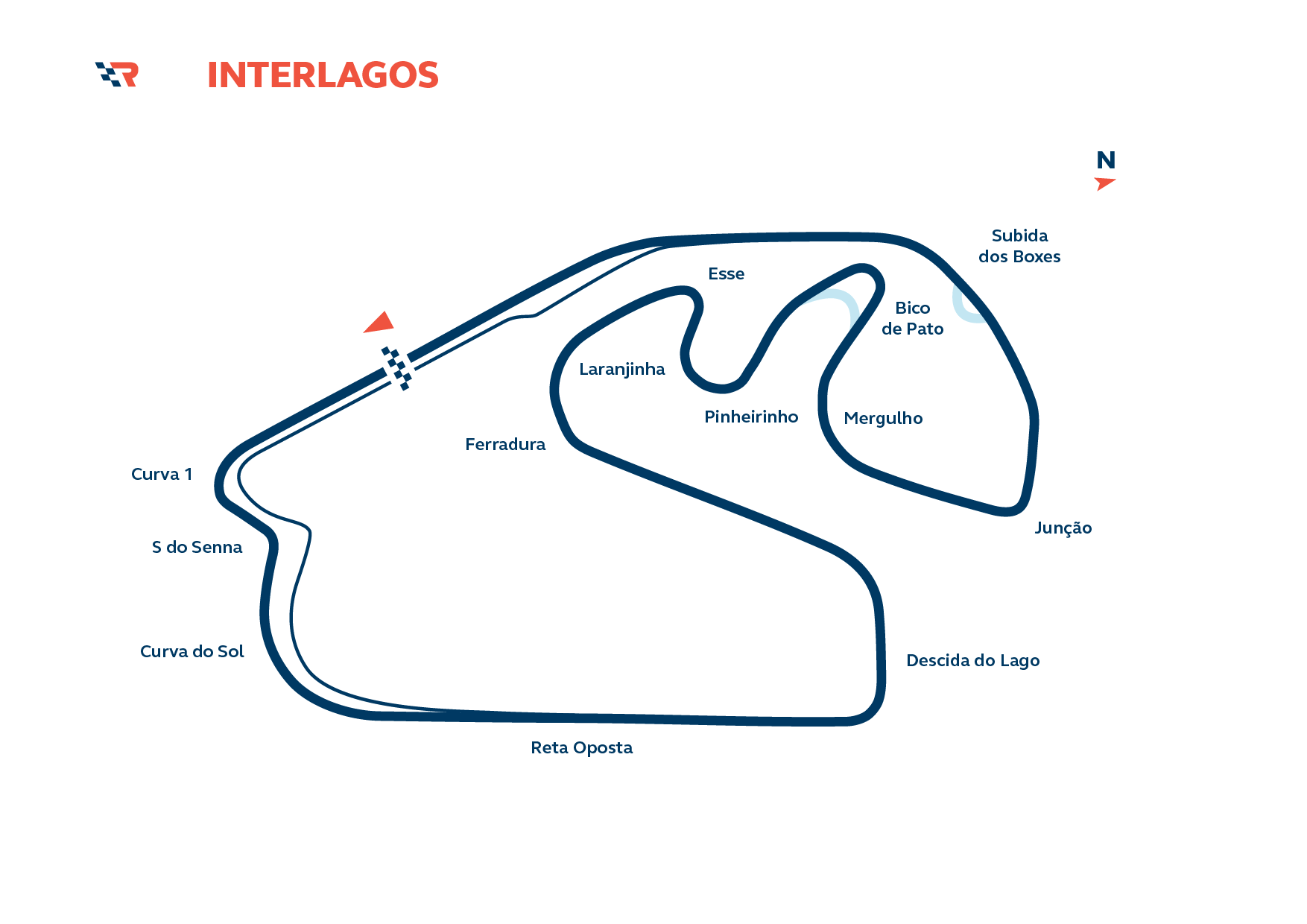 Friday 1st November, 2019
Track of The Month – November 2019
 Interlagos – Brazil
This November, Interlagos is The Race Centre's Track of the Month.
Opened in 1940, Interlagos is a fast sweeping track with tight turns mixed in for some great racing. The track has gone through many different changes to its layout after drivers complained it was too dangerous. With Interlagos being the penultimate race in the formula 1 calendar it can lead to great racing and amazing comebacks by the likes of Ayrton Senna and Jenson Button.
Interlagos is one of the most challenging tracks on the circuit with its large altitude changes and sharp braking zones. This will provide a great sense of speed and require careful control of the car to get a perfect lap.
We hope that you enjoy the challenge and excitement of Interlagos this month at The Race Centre.
---
See below for an onboard lap of Interlagos with a 2017 McLaren driven by Fernando Alonso in the 2017 F1 season.
We hope you enjoy this fantastic circuit and the cars we have chosen!
---
Over £300 worth of local prizes
You are welcome to drive any of the month's vehicles at any time in an Open Practice Session. All lap times and telemetry are recorded for your immediate viewing and future reference.
| Competition | Vehicle | Prize |
| --- | --- | --- |
| Class A – Expert | F1 2016 RB12 | 1x £50 Cash |
| Class B – Professional | GP2 | 1x Free First Monday |
| Class C – Intermediate | Japanese F3 | 3x Free First Monday |
| Class D – Rookie | Formula Ford | 5x Free First Monday |
See best laps for this competition in the Drivers' Paddock.
Prizes at all experience levels
New drivers to The Race Centre will be automatically classified as a Class D driver. Winning in a class will gain you promotion to the next class. You have to win Class B twice to progress to Class A.
| Competition | Eligible Classes | Promotion |
| --- | --- | --- |
| A – Expert | A, B, C, D | – |
| B – Professional | B, C, D | A |
| C – Intermediate | C, D | B |
| D – Rookie | D only | C |
Competition Terms and Conditions
All potential prize-winning laps must be verified by a TRC staff member
For a lap to be legal, your vehicle must have two or more wheels inside or touching the white lines at all times.
Vehicles must be running all standard TRC settings for the month.
Free entry to First Monday is for the next event and is non-transferable.
Multiple Class wins within a month will result in prizes for the highest win only. Lower "wins" will be passed to the next highest competitors.
TRC Staff are not eligible to win prizes. Any winning positions held by staff will defer to the next highest driver.
Cash prizes available at the following First Monday event or within a max of 30 days of competition end.