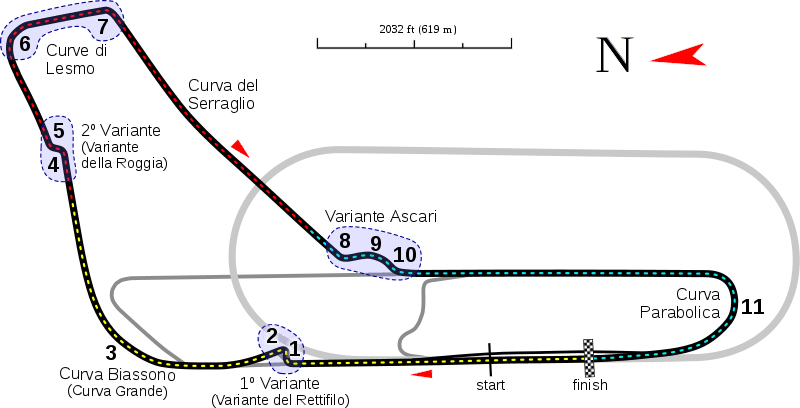 Sunday 1st December, 2019
Track of The Month – December 2019
 Monza – Italy
This December, Monza is The Race Centre's Track of the Month.
Autodromo Nazionale di Monza was originally opened on the 3rd of September 1922 and continually been known as the Temple Of Speed due to its long straights and fast corners which are broken up with 2 chicanes and Ascari which is a fast left, right, left leading on to the back straight. Since the start of Formula One, Monza has been a staple of the F1 calendar with it being in every season bar the 1980 season.
With this year being the 90 years of Ferrari racing, our A class and B class cars are both Ferrari to celebrate the massive achievement. Since their formation, Ferrari has won 14 Constructors World Championships on F1 and a record 237 Grand Prix. Ferarri has also won races in other huge events such as Le Mans, winning it 9 times and 6 consecutive wins.
We hope that you enjoy the challenge and excitement of Monza this month at The Race Centre.
---
See below for an onboard lap of Monza driven by Fernando Alonso in the 2006 F1 season.
We hope you enjoy this fantastic circuit and the cars we have chosen!
---
Over £300 worth of local prizes
You are welcome to drive any of the month's vehicles at any time in an Open Practice Session. All lap times and telemetry are recorded for your immediate viewing and future reference.
| Competition | Vehicle | Prize |
| --- | --- | --- |
| Class A – Expert | F1 2016 RB12 | 1x £50 Cash |
| Class B – Professional | GP2 | 1x Free First Monday |
| Class C – Intermediate | Japanese F3 | 3x Free First Monday |
| Class D – Rookie | Formula Ford | 5x Free First Monday |
See best laps for this competition in the Drivers' Paddock.
Prizes at all experience levels
New drivers to The Race Centre will be automatically classified as a Class D driver. Winning in a class will gain you promotion to the next class. You have to win Class B twice to progress to Class A.
| Competition | Eligible Classes | Promotion |
| --- | --- | --- |
| A – Expert | A, B, C, D | – |
| B – Professional | B, C, D | A |
| C – Intermediate | C, D | B |
| D – Rookie | D only | C |
Competition Terms and Conditions
All potential prize-winning laps must be verified by a TRC staff member
For a lap to be legal, your vehicle must have two or more wheels inside or touching the white lines at all times.
Vehicles must be running all standard TRC settings for the month.
Free entry to First Monday is for the next event and is non-transferable.
Multiple Class wins within a month will result in prizes for the highest win only. Lower "wins" will be passed to the next highest competitors.
TRC Staff are not eligible to win prizes. Any winning positions held by staff will defer to the next highest driver.
Cash prizes available at the following First Monday event or within a max of 30 days of competition end.