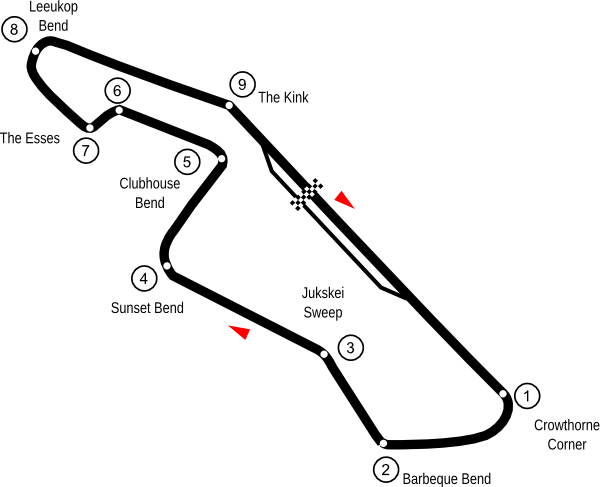 Wednesday 1st January, 2020
Track of The Month – January 2020
 Kyalami – South Africa
This January, we go back to a classic, Kyalami is The Race Centre's Track of the Month.
Kyalami's original layout was used from 1961 until 1987 when the Grand Prix was stopped due to political reasons. It was then reopened in 1998 but wasn't used in a Grand Prix until 1992 when the track layout had changed again to implement a new pit straight, a more complex set of corners. This reduced it down from one of the fastest tracks on the calendar to one of the tightest and more complex.
As the track returns to racing it has now been announced that there will be a 6-hour WEC race next year. This is after the track has mainly been used for the Superbike world championship. In 2014 the track was auctioned off to the owner of Porsche South Africa who bought it for R205 Million. They have since invested R100 Million to update it and get it to FIA Grade 2.
We hope that you enjoy the challenge and excitement of Kyalami this month at The Race Centre.
---
See below for a look into the past in Kyalami in the 1968 F1 Season.
We hope you enjoy this fantastic circuit and the cars we have chosen!
---
Over £300 worth of local prizes
You are welcome to drive any of the month's vehicles at any time in an Open Practice Session. All lap times and telemetry are recorded for your immediate viewing and future reference.
| Competition | Vehicle | Prize |
| --- | --- | --- |
| Class A – Expert | Lotus 49 | 1x £50 Cash |
| Class B – Professional | Lotus 72C | 1x Free First Monday |
| Class C – Intermediate | Lotus 23b | 3x Free First Monday |
| Class D – Rookie | Lola T598 | 5x Free First Monday |
See best laps for this competition in the Drivers' Paddock.
Prizes at all experience levels
New drivers to The Race Centre will be automatically classified as a Class D driver. Winning in a class will gain you promotion to the next class up.
| Competition | Eligible Classes | Promotion |
| --- | --- | --- |
| A – Expert | A, B, C, D | – |
| B – Professional | B, C, D | A |
| C – Intermediate | C, D | B |
| D – Rookie | D only | C |
Competition Terms and Conditions
All potential prize-winning laps must be verified by a TRC staff member
For a lap to be legal, your vehicle must have two or more wheels inside or touching the white lines at all times.
Vehicles must be running all standard TRC settings for the month.
Free entry to First Monday is for the next event and is non-transferable.
Multiple Class wins within a month will result in prizes for the highest win only. Lower "wins" will be passed to the next highest competitors.
TRC Staff are not eligible to win prizes. Any winning positions held by staff will defer to the next highest driver.
Cash prizes available at the following First Monday event or within a max of 30 days of competition end.