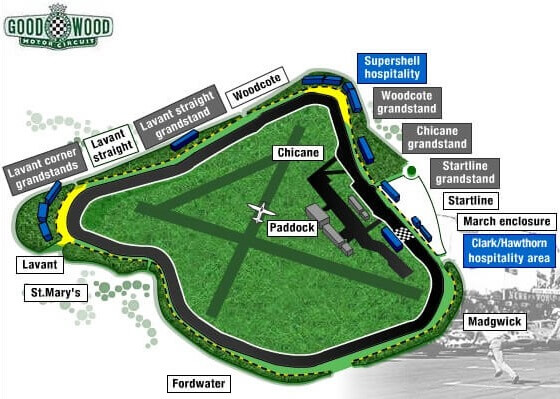 Tuesday 1st September, 2020
Track of The Month – September 2020
 Goodwood – UK
This September, Goodwood is The Race Centre's Track of the Month.
Opened for racing in 1948, Goodwood is a 2.4-mile circuit located near Chichester, West Sussex. In the circuits early history, it played host to many racing events, including Formula One, endurance racing, and the Tourist Trophy,  currently the longest-lasting continually-awarded trophy in motorsports.
Although this year Goodwood won't be hosting its famous 'revival', an annual racing festival that showcases exceptional wheel-to-wheel racing around the classic circuit. We will be hosting the track to try to rekindle the love for this classic race track with 3 stunning classic cars to drive around this beautiful course.
We hope that you enjoy the challenge and nostalgia of Goodwood this month at The Race Centre.
---
See below for an onboard lap of Goodwood with a classic Brabham BT2, unleashed during last years Revival.
We hope you enjoy this fantastic circuit and the cars we have chosen!
---
Over £300 worth of local prizes
You are welcome to drive any of the month's vehicles at any time in an Open Practice Session. All lap times and telemetry are recorded for your immediate viewing and future reference.
| Competition | Vehicle | Prize |
| --- | --- | --- |
| Class A – Expert | Lotus 49 | 1x £50 Cash |
| Class B – Professional | Lotus 72c | 1x Free First Monday |
| Class C – Intermediate | Lotus 23b | 3x Free First Monday |
| Class D – Rookie | Formula Ford | 5x Free First Monday |
See best laps for this competition in the Drivers' Paddock.
Winners at all experience levels
New drivers to The Race Centre will be automatically classified as a Class D driver. Winning in a class will gain you promotion to the next class.
| Competition | Eligible Classes | Promotion |
| --- | --- | --- |
| A – Expert | A, B, C, D | – |
| B – Professional | B, C, D | A |
| C – Intermediate | C, D | B |
| D – Rookie | D only | C |
Competition Terms and Conditions
All potential prize-winning laps must be verified by a TRC staff member
For a lap to be legal, your vehicle must have two or more wheels inside or touching the white lines at all times.
Vehicles must be running all standard TRC settings for the month.
Free entry to First Monday is for the next event and is non-transferable.
Multiple Class wins within a month will result in prizes for the highest win only. Lower "wins" will be passed to the next highest competitors.
TRC Staff are not eligible to win prizes. Any winning positions held by staff will defer to the next highest driver.
Cash prizes available at the following First Monday event or within a max of 30 days of competition end.