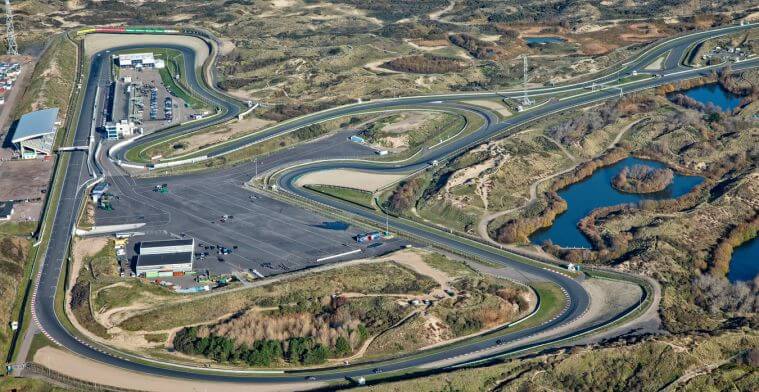 Wednesday 1st December, 2021
Track of The Month – December 2021
 Circuit Zandvoort, North Holland, Netherlands
The Race Centre's Track of the Month for December is Circuit Zandvoort, located in North Holland, Netherlands.
Racing at Zandvoort used to be held on public roads until a permanent circuit was constructed using communications roads built by the German Army during WWII.
Zandvoort was used to host the Dutch Grand Prix from 1948 – 1985. It then took a 36-year break before hosting Formula one again in 2021, having been delayed a year due to COVID-19. The 1952 and 1953 were Formula 2 specification races, but in 1955, Formula One cars took to the track for the first time.
This fantastic track has undergone several changes over the course of its life, the most recent including the addition to banking to the 3rd and final bends, with the aim of promoting overtaking for Formula One round the narrow winding circuit.
Due to the nature of this incredible track, bold driving is required for successful overtakes. With several fast bends and a flowing 'snake-like' section, keeping up momentum is a must.
Come to The Race Centre this month to see if you are up to the challenge of Zandvoort.
Take a look below for a flying lap track guide of Zandvoort with Tom Coronel driving an Audi RS3 LMS TCR!
We hope you enjoy this fantastic circuit and the cars we have chosen!
---
What can you drive this month?
You are welcome to drive any of the month's vehicles at any time in an Open Practice Session. All lap times and telemetry are recorded for your immediate viewing and future reference.
| Competition | Vehicle | Prize |
| --- | --- | --- |
| Class A – Expert | McLaren Senna GTR | 1x £50 Cash |
| Class B – Professional | McLaren 720s GT3 | 1x Free First Monday |
| Class C – Intermediate | McLaren 650s GT3 | 3x Free First Monday |
| Class D – Rookie | Tatuus USF-17 | 5x Free First Monday |
See best laps for this competition in the Drivers' Paddock.
Who can win?
New drivers to The Race Centre will be automatically classified as a Class D driver. Winning in a class will gain you a promotion to the next class. You have to win Class B twice to progress to Class A.
| Competition | Eligible Classes | Promotion |
| --- | --- | --- |
| A – Expert | A, B, C, D | – |
| B – Professional | B, C, D | B+ |
| C – Intermediate | C, D | B |
| D – Rookie | D only | C |
Competition Terms and Conditions
All potential prize-winning laps must be verified by a TRC staff member.
For a lap to be legal, your vehicle must have two or more wheels inside or touching the white lines at all times.
Vehicles must be running all standard TRC settings for the month.
Free entry to First Monday is for the next event and is non-transferable.
Multiple Class wins within a month will result in prizes for the highest win only. Lower "wins" will be passed to the next highest competitors.
TRC Staff are not eligible to win prizes. Any winning positions held by staff will defer to the next highest driver.
Cash prizes available at the following First Monday event or within a max of 30 days of competition end.