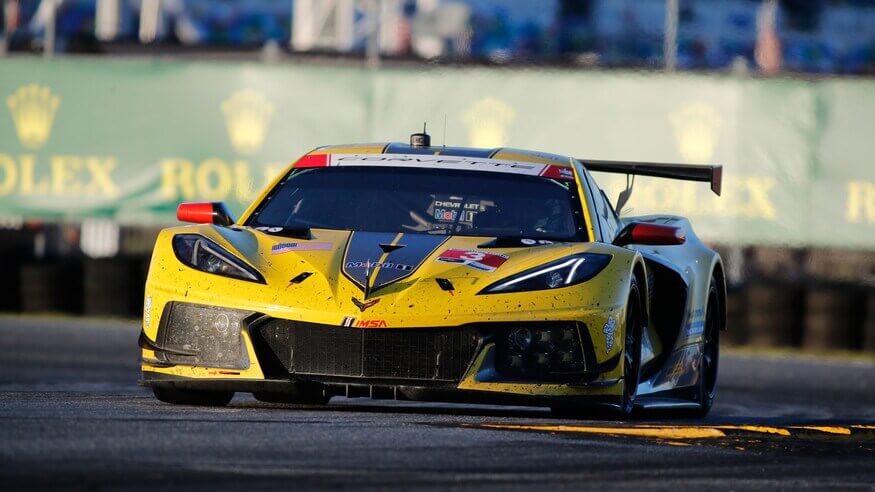 Saturday 1st January, 2022
Track of The Month – January 2022
Daytona International Speedway (Road Course) – USA
The Race Centre's Track of the Month for January is the Daytona International Speedway Road Course!
Situated in Daytona Beach, Daytona International Speedway is a high-speed race track that first opened in 1959. The track is used for prestigious racing events, such as Nascar's Daytona 500, and the IMSA SportsCar Championship's 24 Hours of Daytona.
Daytona has 4 layouts with the main two being a 2.5-mile (4.0 km) tri-oval, and a 3.56-mile (5.73 km) Road Course. This month, the Race Centre is debuting the Road Course.
The Road Course was built in 1959 and in 1962 hosted a then three-hour sports car race known as the "Daytona Continental". In 1964 the race length was increased to 2,000 km (1,200 mi), then increased again to be a 24-hour endurance race known as the "Rolex 24 at Daytona" in 1966. During the race, the track's lights are reduced to 20% of their maximum brightness, by doing this, the cars/drivers are more reliant on their headlights.
This fantastic circuit features two long, heavily banked curves, that are originally from the tri-oval layout. Bold, calculated, driving is required to make a daring pass on the banked sections, just be sure to keep an eye out for a sneaky lunge into the bus stop-shaped chicane after the first of the banked turns.
The Daytona Road Course is a magnificent circuit, that is sure to provide a fun challenge for all who take it on.
Come and drive Daytona for yourself this month at The Race Centre, and see how fast you can go!
---
Take a look below for some onboard footage from the 2020 24-Hours of Daytona!
We hope you enjoy this fantastic circuit and the cars we have chosen!
---
What can you drive this month?
You are welcome to drive any of this month's vehicles at any time in an Open Practice Session. All lap times and telemetry are recorded for your immediate viewing and future reference.
| Competition | Vehicle | Prize |
| --- | --- | --- |
| Class A – Expert | Cadillac DPi-V.R | 1x £50 Cash |
| Class B – Professional | LMP2 Oreca 07 | 1x Free First Monday |
| Class C – Intermediate | Chevrolet Corvette C8.R GTE | 3x Free First Monday |
| Class D – Rookie | Tatuus USF-17 | 5x Free First Monday |
See all the best laps for this competition, as well as telemetry in the Drivers' Paddock.
Who can win?
New drivers to The Race Centre will be automatically classified as Class D Drivers. Winning in a class will gain you a promotion to the next class. You have to win Class B twice to progress to Class A.
| Competition | Eligible Classes | Promotion |
| --- | --- | --- |
| A – Expert | A, B, C, D | – |
| B – Professional | B, C, D | A |
| C – Intermediate | C, D | B |
| D – Rookie | D only | C |
Competition Terms and Conditions
All potential prize-winning laps must be verified by a TRC staff member
For a lap to be legal, your vehicle must have two or more wheels inside, or touching, the white lines at all times.
Vehicles must be running all standard TRC settings for the month.
Free entry to First Monday is for the next event and is non-transferable.
Multiple Class wins within a month will result in prizes for the highest win only. Lower "wins" will be passed to the next highest competitors.
TRC Staff are not eligible to win prizes. Any winning positions held by staff will defer to the next highest driver.
Cash prizes are available at the following First Monday event or within a max of 30 days of competition end.