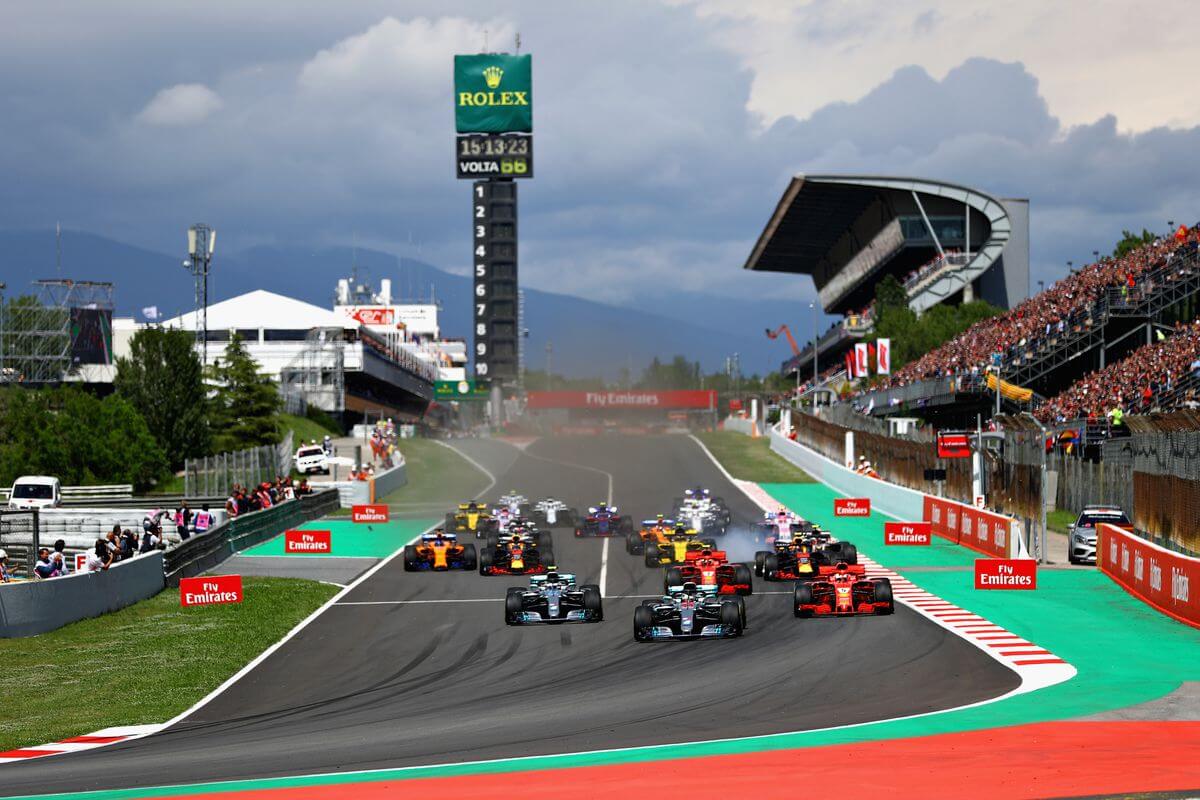 Tuesday 1st March, 2022
Track of The Month – March 2022
Barcelona, Spain
This March, the Circuit de Barcelona-Catalunya is The Race Centre's Track of the Month. Situated just outside of Barcelona in Spain, The Circuit de Catalunya was built for the 1991 Spanish Grand Prix and has been hosting them ever since.
This circuit is notable for its mix of fast sweeping sections and low-speed technical bends, as well as the bumpy road surface. All of this combined makes Catalunya a demanding circuit both physically and mechanically.
Take a look below for a flying lap of the Circuit de Barcelona-Catalunya in the Red Bull Simulator with Mark Webber!
Pre-season testing
As well as being host to the Spanish Grand Prix for the last 31 years, the Circuit de Catalunya has more recently become the location for the annual pre-season testing.
At the end of each season, the cars go through various changes to comply with the ever-changing rules and regulations of Formula 1.
Pre-season testing allows for the teams to run their new cars for the first time, providing drivers, mechanics, and technical directors with valuable performance data.
It also gives fans a chance to see the new cars close to racing speed for the first time, and this provides a good indication to see how competitive certain teams will be coming into the new season.
This year, Formula One has had a huge overhaul to the technical regulations, leading to the teams needing to completely redesign their cars. As such, pre-season testing has been split into two rounds. The first round ran from February 23rd – 25th at Circuit de Barcelona-Catalunya. The second round will be at the Bahrain International Circuit from March 10th – 12th.
---
We hope you enjoy this fantastic circuit and the cars we have chosen!
What can you drive this month?
You are welcome to drive any of the month's vehicles at any time in an Open Practice Session. All lap times and telemetry are recorded for your immediate viewing and future reference.
| Competition | Vehicle | Prize |
| --- | --- | --- |
| Class A – Expert | F1 2018 | 1x £50 Cash |
| Class B – Professional | GP3 2018 | 1x Free First Monday |
| Class C – Intermediate | Tatuus FT-60 | 3x Free First Monday |
| Class D – Rookie | Tatuus USF-17 | 5x Free First Monday |
See best laps for this competition in the Drivers' Paddock.
Who can win?
New drivers to The Race Centre will be automatically classified as Class-D drivers. Winning in a class will gain you a promotion to the next class.
| Competition | Eligible Classes | Promotion |
| --- | --- | --- |
| A – Expert | A, B, C, D | – |
| B – Professional | B, C, D | A |
| C – Intermediate | C, D | B |
| D – Rookie | D only | C |
Competition Terms and Conditions
All potential prize-winning laps must be verified by a TRC staff member
For a lap to be legal, your vehicle must have two or more wheels inside, or touching, the white lines at all times.
Vehicles must be running all standard TRC settings for the month.
Free entry to First Monday is for the next event and is non-transferable.
Multiple Class wins within a month will result in prizes for the highest win only. Lower "wins" will be passed to the next highest competitors.
TRC Staff are not eligible to win prizes. Any winning positions held by staff will defer to the next highest driver.
Cash prizes are available at the following First Monday event or within a max of 30 days of competition end.