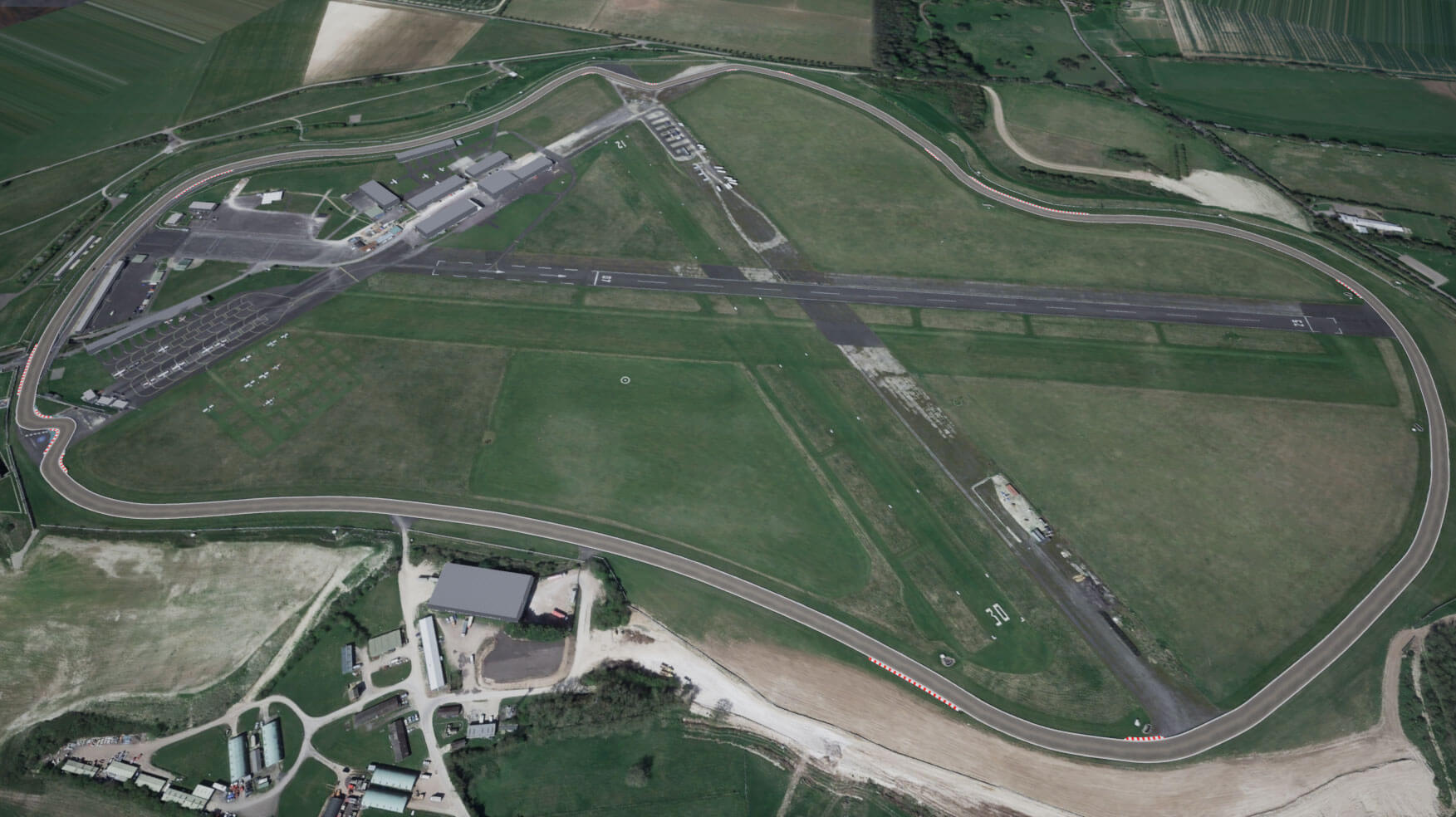 Friday 1st April, 2022
Track of The Month – April 2022
 Thruxton – UK
This April, The Race Centre's Track of the Month is Thruxton, the UK's fastest circuit.
A 2.35-mile circuit, Thruxton is the fastest race track in the UK. Originally Thruxton was built in 1940 as an RAF airbase but was sold into private hands before being issued a racing permit in 1950. Originally used for Motorcycle racing, car racing didn't come to Thruxton until 1952. in 1953, some changes were made to the circuit's layout, but due to the deteriorating runway sections, four-wheel racing was abandoned in 1953 as it was too difficult. Motorcycles, however, continued to use the circuit until 1964.
Thruxton was bought back to life in the late 60s due to Goodwood's closing in 1966. In March of 1968 after some heavy renovation work, Thruxton reopened for racing with a new layout composed entirely of the perimeter roads, leaving out the old runways.
Nowadays, Thruxton is limited to just 12 days of racing activity a year, but is used by the British Touring Car Championship and the British Superbike Championship.
Come to The Race Centre this month to see if you are up to the challenge of Thruxton.
Take a look below for an onboard lap of Thruxton with Sam Brabham in the Team Connect It Porsche Carrera Cup GB car:
We hope you enjoy this fantastic circuit and the cars we have chosen!
---
What can you drive this month?
You are welcome to drive any of the month's vehicles at any time in an Open Practice Session. All lap times and telemetry are recorded for your immediate viewing and future reference.
| Southampton (CF) | Vehicle | Prize |
| --- | --- | --- |
| Class A – Expert | McLaren Senna GTR | 1x £50 Cash |
| Class B – Professional | Aston Martin Vantage GT3 | 1x Free First Monday |
| Class C – Intermediate | McLaren 650s GT3 | 3x Free First Monday |
| Class D – Rookie | Tatuus USF-17 | 5x Free First Monday |
See the best laps for this competition in the Drivers' Paddock.
Who can win?
New drivers to The Race Centre will be automatically classified as a Class D driver. Winning in a class will gain you a promotion to the next class.
| Competition | Eligible Classes | Promotion |
| --- | --- | --- |
| A – Expert | A, B, C, D | – |
| B – Professional | B, C, D | A |
| C – Intermediate | C, D | B |
| D – Rookie | D only | C |
Competition Terms and Conditions
All potential prize-winning laps must be verified by a TRC staff member.
For a lap to be legal, your vehicle must have two or more wheels inside or touching the white lines at all times. For Prize-winning positions, this will be verified by a TRC staff member.
Vehicles must be running all standard TRC settings for the month.
Free entry to First Monday is for the next event and is non-transferable.
Multiple Class wins within a month will result in prizes for the highest win only. Lower "wins" will be passed to the next highest competitors.
TRC Staff are not eligible to win prizes. Any winning positions held by staff will defer to the next highest driver.
Cash prizes are available at the following First Monday event or within a max of 30 days of the competition's end.